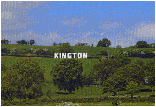 Offa's Dyke Path stretches from Prestatyn in the north, travelling south to the right (East) of Llangollen and to the left (West) of Oswestry then heading due south to Knighton where there is a walker's centre.  The path goes into Kington, Hay on Wye then on to Monmouth, then south to Chepstow where it meets the river Severn.  Many people walk the Dyke because of the breathtaking scenery; others just like walking.
The Dyke itself is best preserved between Presteigne and Montgomery which takes in   Knighton.  The  actual path is 293 km or 182 miles and passes through some of the most attractive landscape that Wales or England has to offer.
There is a youth/backpackers hostel in the old  Kington hospital now that  the new one is completed.
Offa's Dyke is an ancient earthwork between England and Wales created under the orders of King Offa in the ninth century to keep the Welsh out of Mercia. There are also many castles along the route built mainly by the Normans for the same purpose.
Offa's Dyke is named after Offa, king of Mercia, who had it built between 784 and 796 A.D. as a defence against the Celts of Wales.
Other useful web sites www.offas-dyke.co.uk and www.peny.co.uk/Welsh-borders.htm