What is happening at Peacehaven ?
The Vineyard Fellowship meets at Peacehaven on Sunday at 11:00 a.m. Come and join us.

At present, we have Coffee Break on Monday morning at 11:00 a.m. to look at questions people have and discuss them.
On Tuesday evening we discuss what is relevant to the church today.  Some time ago, God told me to pray for each customer as they left the shop.  I could not find a way to do this.  Now I bless each person in the name of Jesus.  That is so easy to do.
Want to know more ?  Click the tractor …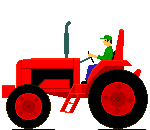 FREE BOOKLETS are in the porch at Peacehaven.  You are welcome to take whatever you like as a present from us to you.  May God bless you.